We no longer stock Alltronik remote control transmitters
but we have a 'simple to fit' receiver & keyfob upgrade
to suit your existing door or gate operator
The AP433RX2 universal upgrade kit comprises of a new 433Mhz remote control radio receiver module and a matching transmitter and suits all Alltronik garage door operators including the following popular models:
Speed 50 - Swing 1 - Swing 11
Up to four doors or gates can be
controlled from each AP433TX4 keyfob
(The AP433RX2 is a two channel receiver unit and may
be connected to two separate door or gate motors)


AP433TX4 four channel keyfob
dimensions - 53mm x 33mm x 13.5mm
This receiver unit is supplied with a 13A mains plug type power adaptor & 7Mtrs of low voltage flex and simply plugs into a normal household mains socket and connects by two wires to the low voltage wall mounted pushbutton switch connections on your existing Alltronik garage door operator. (you can connect the two wires from the new receiver to the terminals on your wall switch or directly to the wall switch terminals inside the electric operator casing, whichever you prefer!)
Click image to enlarge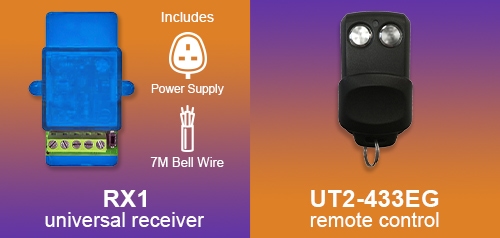 AP433RX2 mains powered receiver unit
(illustrated with AP433TX4 keyfob transmitter)
receiver module dimensions 95mm x 47mm x 43mm
keyfob dimensions - 53mm x 33mm x 13.5mm
Note: It's essential that your door functions normally from the pushbutton so please
confirm that your door works from this before ordering a remote control upgrade
(if a pushbutton switch has not been installed you can test your system by locating the pushbutton
terminals on your door operator unit and briefly shorting them together with a metal object)
Simple D.I.Y. Installation
Can be installed and working within about
5 minutes with no technical knowledge!