Manufacturer's
Name: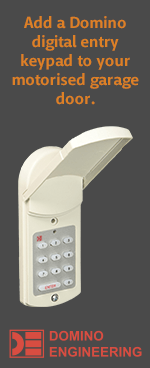 Bluetooth Gate and Garage Control

The 1Control Solo Replaces existing remote controls, and allows the user to control their gate or garage door from their smartphone using bluetooth connection
Free App Download
The SOLO app is free to download on iOS and Android stores, and can be used on up to 10 separate devices at a time. Security is provided by a 6 digit PIN number.
The app can also memorise up to 4 fixed or rolling code remotes, just place them next to the SOLO and the app's step by step guide will help you with this process.
The app is available on all iPhone devices, providing they have iOS 7 or later and are models including the iPhone 4S and above.
Similarly, all Android devices with Android 4.3 are compatible.
Easy App Installation
No wires or technical support is needed for the installation
Can accommodate up to 10 different users.
The SOLO comes with pre-installed batteries, expected to last up to 2 years.
Once the app has been installed, place the SOLO within 15m of the gate or garage door and at least 1m from the ground.
The SOLO has been built to last in all weather conditions, including snow, heat and heavy rain.
Compatible Remotes
The SOLO is compatible with a wide range of 433.92 and 868 Mhz remotes from all brands. Examples of compatible remotes include:
Came - TOP862NA, TOP432S, TOP432SA, TOP432NA, TOP432EV
Chamberlain/Liftmaster/Motorlift - TX4 UNI, TX4R UNI, 4335EML, 433EML, 9433E, 84335E,ML, 94335EML , 94335E
Mhouse - TX3, TX4, MOOVO, GTX4
Nice - SMILO, Easy S, VERY-VR, ERA-FLOR, ERGO, FLO-R
BFT - MITTO, MITTO RCB, MITTO A, TEO, VTM, TXQ, TRC
Gibidi - AU1600, AU1680, DOMINO, TMB, TSM
Genius - Amigo, Echo, Kilo, Bravo
Novoferm - Novotron 502, Novotron 202 MB, Mini Novotron 40, Mini Novotron 502, Mini Novotron 504
Please check the 1Control SOLO compatibilty page carefully before purchasing.
The 1Control Solo is
not compatible with Seip
remote controls or garage door operators.
---
Click image to enlarge


The 1 Control Bluetooth Gate Control
Smartphone compatible gate opening device
Batteries are already installed and does not need to be turned on

Price £


Delivery Options • How Secure is Our Cart System?
Terms & Conditions • Privacy Policy • Contact Us

01384 900 264
email@amourelle.co.uk
Unit 16, James Scott Road, Halesowen, West Midlands, B63 2QT
Amourelle Products © . All other trademarks are the property of their respective owners.